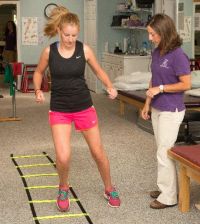 Carousel's physical therapists are experienced in treating orthopedic trauma, including sports injuries. We implement a wide variety of techniques to hasten rehabilitation, including therapeutic exercise, manual therapy techniques, massage, and modalities (heat, cold, electric stimulation, and ultrasound).
Prescribed, organized, and supervised therapy has been clinically proven to decrease recovery time and safely get athletes back in the game. For students with sports injuries, we work with coaches to develop sports-specific exercises and drills to promote optimal performance and reduce the likelihood of re-injury. There are several components to fitness: flexibility, muscle strength, muscle endurance, aerobic fitness and body composition.
Warm-ups are great for flexibility and should be done before and after engaging in athletics. You can play as you train by doing your favorite physical activity at a slower pace – such as swinging bats or clubs to get muscles loose before going for a homer or a hole-in-one.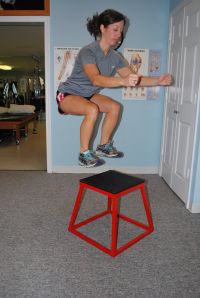 Prehabilitation
Sports-related injuries are bound to occur; however, every effort must be made to prevent the occurrence of unnecessary injuries. Incidences of strains, sprains, muscle tears and overuse injuries may be reduced with a Prehab program. In a Prehab program, athletes are introduced to the idea of prehabilitation, or activities and stretching geared towards preventing injuries that often require rehabilitation. Prehab programs address sport specific needs focusing on stretching as well as coordination and stabilization of the hips, stomach and back or "core" in order to prevent injuries from occurring. Studies show an athlete will stay healthier and perform better with a strong Prehab program. Introduce student athletes or adult athletes to the idea of a Prehab program before an injury places an athlete on the sidelines and into a rehabilitation program.