What Is Lymphedema?
Lymphedema is an accumulation of lymphatic fluid in the interstitial tissue that causes swelling, most often in the arm(s) and/or leg(s), and occasionally in other parts of the body. Lymphedema can develop when lymphatic vessels are missing or impaired (primary), or when lymph vessels are damaged or lymph nodes removed (secondary).
When the impairment becomes so great that the lymphatic fluid exceeds the lymphatic transport capacity, an abnormal amount of protein-rich fluid collects in the tissues of the affected area. Left untreated, this stagnant, protein-rich fluid not only causes tissue channels to increase in size and number, but also reduces oxygen availability in the transport system, interferes with wound healing, and provides a culture medium for bacteria that can result in lymphangitis (infection).
What Causes Lymphedema?
Secondary lymphedema, or acquired lymphedema, can develop as a result of surgery, radiation, infection or trauma. Specific surgeries, such as surgery for melanoma or breast, gynecological, head and neck, prostate or testicular, bladder or colon cancer, all of which currently require removal of lymph nodes, put patients at risk of developing secondary lymphedema. If lymph nodes are removed, there is always a risk of developing lymphedema. Secondary lymphedema can develop immediately post-operatively, or weeks, months, even years later. It can also develop when chemotherapy is administered to the already affected area (the side on which the surgery was performed) or after something as benign as a paper cut.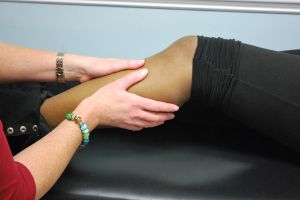 What can be done?
Some of the most effective treatments are manual lymphatic drainage; bandaging; proper skin care & diet; compression garments and exercise. Your therapist can instruct you in any or all of these techniques to manage your symptoms.